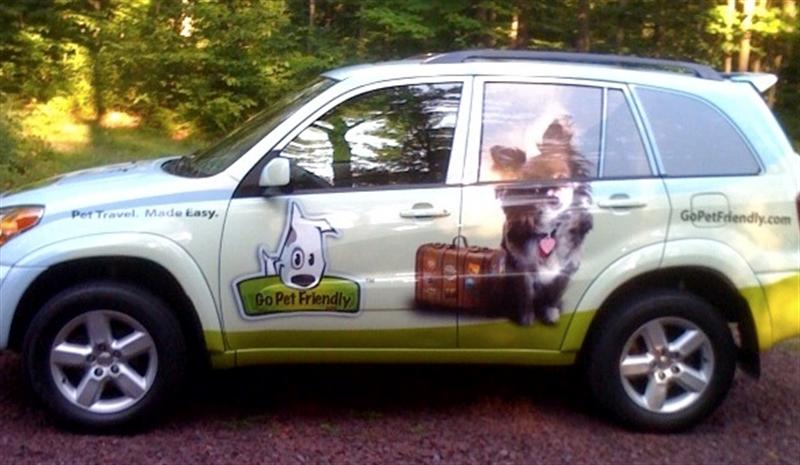 Rod and Amy Burkert run GoPetFriendly.com a site that lets travelers find pet friendly accommodations so they can enjoy extraordinary travel experiences with their pets. They're currently traveling across the US and Canada and were kind enough to answer a few questions about their trip, website, and pets.
Tell us a little bit about your trip.
We are on our first "official" GoPetfriendly.com road trip with our two dogs – 3500 miles over 24 days.  We started in the Pocono Mountains in Pennsylvania.  We've traveled due west through Ohio, Indiana, and Illinois.  As I write this, I am in western Wisconsin visiting family.  We are planning a side trip to Iowa to look at RVs.  Then we are headed north through Minnesota to Kashabowie, Ontario for a fishing vacation.  We'll return home over the north shores of Lake Superior and Lake Huron, then over to Niagara Falls and Buffalo, and finally back home by way of New York's southern tier.  Our travels and travails will be published on our blog.

In a 'tweet' of 140 characters or less, describe the purpose of Go Pet Friendly.
That's easy: We travel with our pets to make it easy for you to travel with yours!
What's the biggest hassle you've found that pet owners experience while making travel arrangements?
Finding pet friendly accommodations is relatively easy.  However, tracking down the actual pet policy is, by far, the biggest hassle.  So, we've collected and provide on the website a detailed, uniform policy for the hotels and campgrounds in our database.  This way, people will know if there are number, size (weight), or breed restrictions, if additional fees are required, or what pet amenities, if any, exist.
Where are some of the best cities to travel with pets?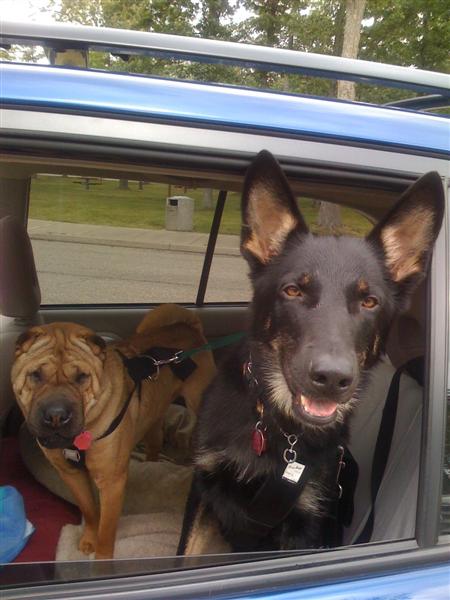 Generally, the best cities are those that have a large pet population.  So San Francisco, New York, Chicago, Portland, and San Diego come to mind.  In these cities, there are many businesses that cater to the dog owner population – which makes it easy to find pet friendly places to stay and things to do when you travel to those cities.
How about the worst?
Though Canadian cities generally rank high on our list for sightseeing, they are not the best cities to visit because the health codes there generally prohibit any dining with doggie options.
We hear so much about traveling with dogs, what's some advice you can give to cat owners?
My wife and I are allergic to cats so this advice is purely anecdotal.  Travel with cats is similar to travel with dogs in that they are both subject to the same disruption anxieties.  Travel with cats is easier because you can generally leave them in the hotel room while you go out to eat.  However, finding accommodations can be harder because cats are accepted by fewer hotels.
What's one thing pet owners might not know about traveling with their pets?
That there are so many activities you can do with your pet.  Beaches, state and national parks, wineries, shopping (many businesses are pet friendly – you just need to ask), ferry rides, amusement parks, major league baseball games.
How do you work in walks and bathroom breaks for your dogs on the road?
We exercise the dogs first thing in the morning.  This exercise combines a long walk and training commands to tire their bodies and minds.  Then, we limit our travel to about 300-350 miles per day.  We will make two stops, either at a rest stop or a point of interest, to get the dogs out of the car.  If one of our stops does not involve a short hike, we will do another walk and exercise period at night.
Finally, how do your two dogs (Ty and Buster) like being on the road so much?
Ty is so laid back, he's happy where ever his bed is. I'm not even sure if he knows or cares about being on the road.  His motto: have bed will travel.  Buster, on the other hand, is so curious and loves exploring new places.  I swear, he would drive to the next city himself if he could.
Thank you very much for taking the time to answer a few questions, best of luck on your trip! Aside from the GoPetFriendly website you can get more updates on the road by following Rod and Amy on Twitter @GoPetFriendly and their blog GoPetFriendlyBlog.com.