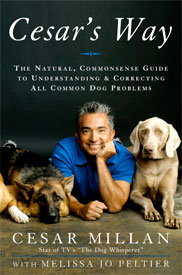 Traveling with pets requires preparing your animals beforehand, being aware of their natural tendencies, and learning all of the added rules and restrictions before you head out. These 3 books can help you do all three, while at the same time entertaining and inspiring you.
1. Cesar's Way – Cesar Millan
Regardless if you use Cesar's methods to train your dog, this book helps you think like one and appreciate how migratory these animals are instinctively. You'll learn to think in terms of your dog's daily circadian rhythms, understand the importance of wearing them out physically before setting off, and little tricks on making them feel comfortable during the car or plane ride.
Cesar's Way is now available on Amazon.com.
2. Cruising With Your Four-Footed Friends: The Basics of Travel with Your Cat or Dog – Diana Jessie
A great resource whether you plan on taking your pets on a boat or not. Reading this book will show you that it's possible to take you dogs and cats anywhere, no matter what form of travel you choose. One of the few pet travel books with specific information for boaters, it's full of useful information like port entry requirements and how to potty train a dog when you're out to sea.
Cruising With Your Four-Footed Friends is available in paperback.
3. Traveling With Your Pet, 11th Edition: The AAA Petbook
Although it does include information about how to prepare your cat or dog for a road trip, the book Traveling With Your Pet is really a good resource and listing of pet friendly accommodations and places to stay around the US or Canada. Aside from good data on hotel prices for pets, Traveling With Your Pet is loaded with pet friendly (and some off leash) parks, specific pet rules for each airline, and emergency vets found along hundreds of towns and cities.
Traveling With Your Pet, 11th Edition is a useful resource when you're offline. When you've got a good Internet connection though, be sure to check out Go Pet Friendly for updated listings.
Your Recommendations
What books do you recommend other travelers with pets read before or during their road, boat, or plane trips? I'd love you hear your suggestions in the comments.